COMIENZA EL BETATESTEO DE SCROLLS
Mojang tiene a bien anunciar a bombo y patillos el comienzo de la fase alpha de su nuevo trabajo, que como bien sabéis porque vimos hace poco un vídeo introductorio, es de título simple pero efectivo, rolero, por turnos, con cartas, Scrolls para más señas. Y a juzgar por lo que vimos, que no fue mucho la verdad, creemos que el juego necesita un «buen meneillo» antes de lanzarlo al mercado, no parecía gran cosa. Imaginamos que el bueno de Notch y toda su troupé de Mojang, tendrán a bien realizar un buen trabajo en este período que comienza a lo largo de hoy. Hasta multijugador, casi nada, aquí tenemos los detalles a testear. Si alguno estáis interesados este es el momento de contarnos alguna cosilla.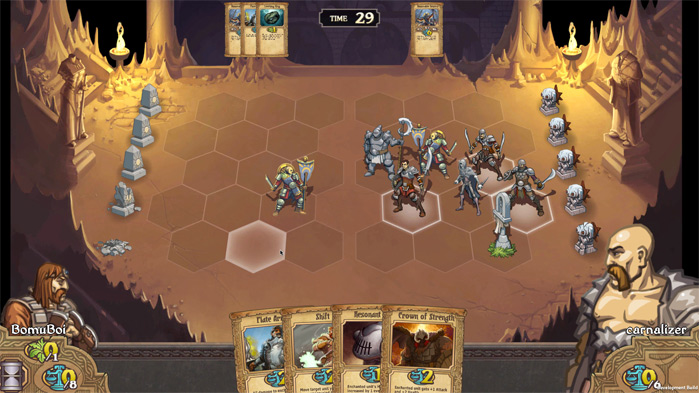 Currently, the alpha includes:

Deck Building
As you start the game, you will have a pre-constructed deck so if you wish, you can start playing right away. However, sooner or later you will probably like to explore the rest of the content in the game, and that's when you go to the Deck Builder. The alpha account comes with a full set of scrolls. Meaning you will have 3 of each available scroll in the game. A deck must be at least 40 scrolls big, and you can have no more than 3 of each scroll in it. You can have as many decks as you like and you may use the same scrolls in different decks.

Singleplayer
Although you will not be able to venture the world or go toe to toe against the powerful bosses that inhabits it, the alpha will allow you to test your strength against an AI opponent. You will have the option of 3 difficulty settings, each of which has a number of different decks to play against.

Multiplayer
In the Arena section, you can chat with other players as well as challenge them. You can also queue up for a multiplayer match against a random opponent. When playing a multiplayer match, there will be a round timer allowing the players no more then 90 seconds to make their move. It is advised to try out the tutorial and some single player matches before testing your skill against another player.

Scrolls is still missing a lot of features and content that we plan on implementing over the upcoming months. Also keep in mind that we probably will be changing many of the current scrolls in the game during this time.