ENTREVISTAJARE: CHRIS JONES
En esta vida hay veces que el ser humano hace las cosas por fama, por dinero, por codicia, porque quiere follarse a la novia de su amigo, por oscuros intereses… y hay otras que las cosas se hacen simplemente por amor. Explicar el aquí y ahora lo que nos ha costado sacar adelante esta entrevista sería estúpido. Explicar que de antemano sabemos que el esfuerzo realizado no nos va a reportar 400 millones de visitas y que a pocos de vosotros os va a importar porque no estamos hablando de Perry, Molyneaux y demás estrellonas mediáticas digitales que siempre dan que hablar con sus declaraciones, puede que resulte absurdo si no se es consnciente del orgullo personal e intransferible que sentimos al habernos podido acercar a uno de mis nuestros héroes personales, padre de los juegos de golf y de la saga links, cocreador de la saga de Tex murphy a día de hoy retirado y alejado del mundanal ruido, en su compañía de simulaciones virtuales Trugolf. Allá vamos, con ustedes el parco de palabras pero simpre interesante CHRIS JONES.
Where do you think we are going in terms of playability and story telling?
Story telling will become more important as designers learn to be more efficient in the way they lay the story in with gameplay.
Why do you think Microsoft bought Access? What was their idea in that moment? It really seem it was not a good deal for them in the long term. Lots of Access fans are still angry because we have the feeling that Microsoft left Access simply slip away and die.
Access was purchased mainly for Links. They bought the Access because we dominated the golf category at the time .The market at the time was mainly PC but when Microsoft switched to XBOX, the PC market was less important.»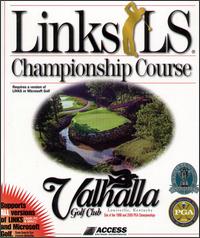 Why do you think there are so few games where you actually dont have to kill someone?
Because the big retailers are reluctant to take games with a hard teen or mature rating. In my opinion, the rating system is too hard on games.
The reason given by insiders for the «death» of the of FMV genre was that «they were to expensive to produce» compared to other titles in that time… in today standards production companies put millions of dolars in videogaming projects so this huge and expensive projects nowadays seem to be very normal. Do you think this could mean that are there any posibilities we could see a return of the FMV genre in future years?
The big games typically have story blended in already and they prefer to do it with CGI. It seems doubtful that FMV games will have a big comeback because most don't like the way FMV integrates with the gameplay graphics.
Do you think Wii and DS could take adventure gaming to another level or on the contrary is their success in casual gaming, short development cycles, and cheap projects a risk for «Long, serious and Expensive Development Projects» like the FMV games.
The risk is still very high for a typical FMV game. It will take some real innovation to balance the risk to the point that someone will spend big money on a title in that category.
Which gaming platform do you prefer console or PC?
The PC is my favorite because the audience is a little older and you can design more interesting stores
Is there any adventure game that really has amazed you in last years?
It has been a very lean period for the adventure genre.
Did you know something about this FMV projects? Conspiracies, Darkstar , Fate by numbers
I don't know much about them.
Why do you think with all the progress the industry have seen in the last 10 years in 3D game engines the developers have not almost used this «First person View» control scheme that Tex series did so well?
I have seen engines out there that do what our engine did, but not used in the same way. The popularity of adventure games is what holds developers back from investing in the tools to do the exact same thing tha tour engine did
In the «Unnoficial Tex Murphy Message board» we can read the following from Aaron Conners; So here it comes the innevitable question Im sure you already knew i was going to make you 🙂
Are there any chances we could see TEX in a game again?
We keep hoping that the genre will return to health and that making a new a a tex product has a chance to be economically viable.
Are you involved in any way with these http://es.youtube.com/watch?v=XLbYSt4Quu0? If not, where you aware of it? Do you mind the communitty doing mods or developing new Tex adventures?
I am always curious to see how TEX fans would like to see the series progress
If like in the past with Overseer you could make nowaday a «remake» of one of your games which one would be?.
Martian Memorandum
Would you do it again using a similar technologie or would you use something different?
Probably something different that would capture the essence of TEX without being so costly to produce.
Would you use an in house engine or would you license other's technologie?
We would have to evaluate the direction of the product and then make the decision.
Despite Marlow, Bogart, and Blade Runer which are the other influences for Tex murphy?
Douglas Adams would also be one of our inspirations.
How did the opportunity to be a part of the voice cast in Stolen Life appeared?
Peter Rasmussen contacted me and I thought it would be fun to be involved with something new.
Were you interested in machinima before this project?
No but once I understood what it could do I was fascinated to give it a try.
I am no such a big fan of machinima myself but I have the feeling that I could be loosing something, Any good recomendations you could give us?
The advantage of Machinima is that it allows people who donthave a big budget a way to tell a story. Peter used it in acreative way and I think there are ways it could be improved but with creative people, it opens new ways to bring TEX type products to market.
Do you think Machinima is a reliable future for story telling?
As technology continues to improve, I believe it will be used more and more.
First time I played a golf game was in my Zx Spectrum and it was a fantastic game called «Leader Board». Later on, came the PGA game that Electronic Arts created back then, I allways thought that EA's inspiration for their PGA game was your game.
What do you think?
EA has always tsressed sports titles so I'm sure they had plans for a golf product, but the success of our product would have shown it was a market worth getting in to.
The creators of golf games has been very worried adding graphic details to their engines, but the control scheme and the interactions beetween player and the virtual enviroment seems to be almost the same after all this year (with maybe the exception of the Tiger Woods Series and the Golf of the WiiSports) Don't you think with new devices in the market as the Wiimote or the sixaxis is time to redefine the way the golf games are played?
Absolutely
Please tell us a little bit about this company and their virtual simulators (technology, experience…)
Tru Golf builds large simulators that allow you to play golf with your own clubs at many of the finest golf courses all over the world. We design the software and simulator as well. In addition, you can cycle, race cars, hunt etc in the same simulation area. It is the first step to a "holodeck" type ogf entertainment in the home.
Would it become someday a project for «evereyone» that we would be able to play with our «Wii».?
Wii is a great example of why a product such as ours is successful on a mass level. People want an experience that is as close to the real thing as they can.
That's all Chris; thank you very much for your time.